10th August 2008 - New review
Carbon Disulfide as a cause of Parkinson's Disease

Carbon disulfide, usually in solvents or pesticides, can cause Parkinson's Disease that is associated with other neurological symptoms. The effects can persist for years after exposure to the carbon disulfide has ceased.

Potential sources : pesticides used as fumigants [1], disulfiram (a drug used in the treatment of chronic alcoholism) [2], industrial solvents [4], solvents used in the production of viscose rayon and cellophane film [8] [9].

Means of toxicity : This is not established. However, carbon disulphide interferes with pyridoxal 5-phosphate. Pyridoxal 5-phosphate is essential for the formation of dopamine from L-dopa. So carbon disulphide may cause Parkinson's Disease symptoms by reducing the formation of L-dopa.

Symptoms : atypical Parkinsonism (cerebellar signs, hearing loss, sensory changes, cogwheel rigidity, decreased associated movements, distal sensory shading, intention tremulousness, resting tremulousness, and nerve conduction abnormalities) [1]; Parkinsonism and frontal lobe-like syndrome associated with bilateral lesions of the lentiform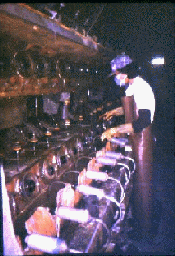 nuclei [2]; balance problems, impotence, and irritability, without tremor, cogwheel rigidity, bradykinesia, or changes in facial expression [3]; Parkinsonism, pyramidal signs, mild cognitive decline, and unresponsiveness to levodopa. Two patients had a predominantly axonal and sensory polyneuropathy of the lower legs with fasciculations in one of them. Parkinsonian features were progressive, even after the patients had stopped work [4]; encephalopathy with Parkinsonism, pyramidal signs, cerebellar ataxia, and cognitive impairments, as well as axonal polyneuropathy [5]; polyneuropathy, encephalopathy, tremor; Parkinsonian features, Parkinsonian features without polyneuropathy or cerebellar signs [6]; Carbon disulfide toxicity may persist for several years after exposure to carbon disulfide has ceased [7].
Further references : [8] Journal of neuropathology and experimental neurology [1945] 4 : 324 (R.Richter), [9] British journal of industrial medicine [1954] 11 : 235 (E.C.Vigliani).
more current PARKINSON'S DISEASE NEWS
E-MAIL NOTIFICATION : If you would like to be notified by e-mail when any new research, news reports, new books, or new resources are added to Parkinson's Disease News, please double click on E-MAIL NOTIFICATION, or e-mail mail@viartis.net. No form of identity is required. E-mail addresses are not used for any other purpose.
LOW RESOLUTION VERSION : There is a low resolution version of this page INTENDED FOR THOSE PEOPLE THAT EITHER : use 800x600 resolution on their monitors, or have eyesight difficulties, or have slow Internet speeds. GO TO LOW RESOLUTION VERSION
Parkinson's Disease News details all significant new research, news reports, new books, and new resources concerning Parkinson's Disease and those medical disorders that often coincide with Parkinson's Disease : Parkinsonism, Essential Tremor, Dystonia, Restless Legs Syndrome. It is compiled from an analysis of all newly published research, news reports, new clinical trials, all newly published books, and new web sites. A summary and analysis of the new research are provided, as well as links to the complete abstracts and news reports.