13th August 2008 - New research 2008
NSAIDS increase Parkinson's Disease

Current Drug Safety [2006] 1 (3) : 223-225 (Etminan M, Suissa S.) Complete abstract

NSAIDs (Non-steroidal anti-inflammatory drugs) are drugs with analgesic, antipyretic and, in higher doses, anti-inflammatory effects. They can reduce pain, fever and inflammation. For more information and a list of NSAIDs go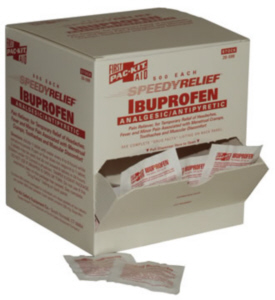 to NSAID. Recent studies have found NSAIDs to be protective against the development of Parkinson's Disease. However, researchers decided to test this hypothesis using the Saskatchewan drug plan database. Cases were defined as those having received three prescriptions for a dopamine agonist within a year. Controls were matched for age, calendar time and index date. Past users of NSAIDs had a slightly higher risk of developing Parkinson's Disease, increasing their chances by up to 20%. However, the occurrence of Parkinson's Disease was up to 50% higher amongst those people that were currently using NSAIDs. The researchers have given no biochemical explanation as to why this might occur.
more current PARKINSON'S DISEASE NEWS
E-MAIL NOTIFICATION : If you would like to be notified by e-mail when any new research, news reports, new books, or new resources are added to Parkinson's Disease News, please double click on E-MAIL NOTIFICATION, or e-mail mail@viartis.net. No form of identity is required. E-mail addresses are not used for any other purpose.
LOW RESOLUTION VERSION : There is a low resolution version of this page INTENDED FOR THOSE PEOPLE THAT EITHER : use 800x600 resolution on their monitors, or have eyesight difficulties, or have slow Internet speeds. GO TO LOW RESOLUTION VERSION
Parkinson's Disease News details all significant new research, news reports, new books, and new resources concerning Parkinson's Disease and those medical disorders that often coincide with Parkinson's Disease : Parkinsonism, Essential Tremor, Dystonia, Restless Legs Syndrome. It is compiled from an analysis of all newly published research, news reports, new clinical trials, all newly published books, and new web sites. A summary and analysis of the new research are provided, as well as links to the complete abstracts and news reports.