Parkinson's Disease News covers all significant new research, reports, books, and resources concerning Parkinson's Disease. Articles are chosen on the basis of their medical significance or potential interest. Our overwhelming priority is the facts, regardless of whether they contradict prevailing views or vested interests. Analysis and further information are provided either to explain the background or implications, or to balance misleading claims. If you notice errors or inadequacies, or dispute what is written, or want to propose articles, please e-mail mail@viartis.net.









5th June 2018 - New research
ADAPTIVE DEEP BRAIN STIMULATION FOR PARKINSON'S DISEASE
CLICK HERE
FOR A PRINTABLE OR WHITE BACKGROUND VERSION OF THIS ARTICLE
Deep Brain Stimulation is the most effective form of surgery for Parkinson's Disease. It involves the use of electrodes that are implanted into the brain and connected to a small electrical device called a pulse generator that can be externally programmed. DBS uses a surgically implanted, battery-operated medical device, which is similar to a heart pacemaker and approximately the size of a stopwatch. For more information go to : Deep Brain Stimulation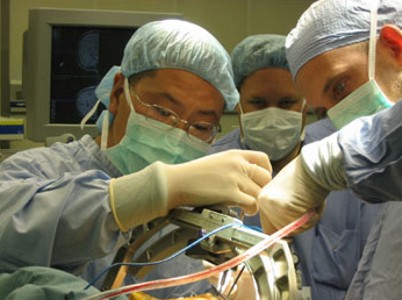 The existing method of DBS is delivered continuously. Adjustments to the patient's changing symptoms must be made manually by a trained clinician. Consequently, patients may be subjected to energy intensive settings when they are not needed, therby resulting in adverse effects such as dyskinesia. One solution is 'adaptive' DBS, in which stimulation is constantly modified naturally by neural signals that vary according to the severity of muscular symptoms or adverse effects. An assessment that was carried out using brain sensing to control the brain stimulation was demonstrated in two patients with Parkinson's Disease.
In in-clinic testing, energy savings were substantial (38%-45%), and therapeutic efficacy was maintained. This is the first demonstration of adaptive DBS in Parkinson's Disease using a fully implanted device and neural sensing.
Reference : Journal of Neural Engineering [2018] 15 (4) : 046006 (N.C.Swann, C.de Hemptinne, M.C.Thompson, S.Miocinovic, A.M.Miller, R.Gilron, J.L.Ostrem, H.J.Chizeck, P.A.Starr) Complete abstract
For more news go to

Parkinson's Disease News

E-MAIL NOTIFICATION : If you would like to be notified by e-mail when any new articles are added to Parkinson's Disease News, please merely e-mail mail@viartis.net with the message "subscribe". No form of identity is required. E-mail addresses are not used for any other purpose.
THE COMPREHENSIVE GUIDE TO PARKINSON'S DISEASE



The Comprehensive Guide to Parkinson's Disease, which is fully referenced, and over 800 pages long, is the most comprehensive book concerning Parkinson's Disease. It includes the history of Parkinson 's Disease, famous people with Parkinson's Disease, the complete biochemisty of Parkinson's Disease,

its cytology and cytological effects, anatomy and anatomical effects, physiology and physiological effects, symptoms of every system in the body, the diagnosis methods (observational, technological, chemical), biochemical causes, all the toxic causes, all the genetic causes, all the pharmacological causes, all the medical disorders that cause Parkinson's Disease symptoms, its treatments (biochemical, pharmacological, surgical, natural, exercise methods, technological methods), including all those treatments that exist and all those treatments presently being developed, Parkinson's Disease organisations, Parkinson's Disease web sites, and books on Parkinson's Disease nursing.

CLICK HERE FOR MORE DETAILS